Diabetes and Supplements – A Safer Alternative  To Insulin?
Gymnema and  Insulin
Gymnema is a supplement that can help reduce diabetics higher than normal levels of glucose. The gymnema herb is proving more beneficial, safer and less damaging to treating diabetes and the pancreas.
Cure For Diabetes Herbal?
If your child has recently been diagnosed with type 1 "juvenile" diabetes don't despair, the Gymnema Herb may can help. The cure for diabetes may be herbal. It is possible that a quick change in eating habits may can help reduce insulin dependency. Read More Here
Even so, start flooding your body with raw green veggies.This will help the body in repairing damaged organs. Read More Here
Conclusion:
You really need that second opinion or do as I did, and just monitor you glucose level and see if you are in fact a diabetic at all.
Read my Raw gOne Green Smoothie 50/50 food/veggie diet at…
http://www.daystarbooks.com/articles/health/
Drink Green Things 3 Times A Day! 
 Recommended Reading – African American Books Online
Read Run Tippy Run – Draw Me Healthy – Diabetes Health Children's Book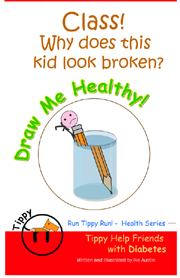 Kids Can Read the African American Book Online Free AtDayStarBooks.Com 
Where To Buy
Parents can purchase the book direct from the publisher $6.50.
Or, purchase from Amazon $12.15
.
Tags: African American Books Online, African Americans and Diabetes, Children and Diabetes, Children Diabetes Books, Diabetes and Cow Milk, Diabetes and Supplements, Diabetes Prevention, Gymnema vs Insulin, herbs vs insulin, vitamins and insulin