Children and Diabetes – Diabetes Prevention
How Kids Can Avoid Diabetes
Children and Diabetes  – Diabetes Prevention
How Kids Can Avoid Diabetes
The  prevention of diabetes starts with the young generation. It begins with the re-programming of the children's mind. The initial phase would involve introducing new eating habits and diet or what we feed our kids. It would also include a flood of new children stories that would help influence what our children eat.
Read The Power of First Impressions article.
Preventing Diabetes – Is A Study Of The Cause Of Diabetes
Eating only all pure organic foods will help prevent diabetes, lower the percentage of children with diabetes, lead to lower blood sugar, and other aliments that seem to be constricted only to Americans or those new American migrants that suddenly become exposed to our commercial food products (store bought or fast food.) Avoiding diabetes can be achieved if we first start the process of avoiding the many commercial food choices we provide to our families.
This effort to prevent diabetes would include certain vitamins and herbs for instance, the safe herb such as gymnema, has demonstrated that this herb has ingredients can possibly help to repair a damaged pancreas, this is miraculous!
In regards to stories that might help to re-program the eating habits of our youths,
there is a series of Run Tippy Run – Draw Me Healthy diabetes related stories for children. In this story, Tippy finds a new friend named g-One who excites him about the main benefit from eating green veggies. These stories are designed to help kids avoid diabetes altogether and introduce a green diet concept to young children. By illustrating a direct link to green food and health, we induce kids to question their current
—food choices & sources.
————–
Recommended Reading
Read Run Tippy Run – Diabetes Health Series
Helping Our Kids Draw Their Future Without Diabetes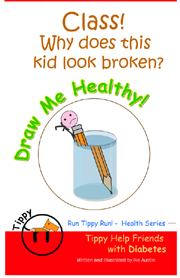 Kids Can Read Free Online At DayStarBooks.Com
Parents can purchase the book direct from the publisher $6.50.
Or, purchase from Amazon $12.15
Tags: Diabetes and Children