African American Books and Diabetes
The Power of stories is the power of first impressions. De-programming young minds from being just mindless eating robots.
 African Americans – Why The Time Is Right For This Diabetes and Childrens Health Book
About Run Tippy Run – Stories Help Eliminate Diabetes.
The Purpose, Is Prevention: In this series of Run Tippy Run – Draw Me Healthy publications, g-One introduce organic gardening to his new friend Tippy. By illustrating a direct link to healthy chemical free food and health, we induce kids to question their diet choices & food sources. Stories can change young minds, the power of stories is, The Power Of First Impressions. Read More Here. 
Drink Green Things 3 Times A Day!
 Recommended Reading – African American Books Online
Read Run Tippy Run – Drw Me Healthy – Diabetes Health Series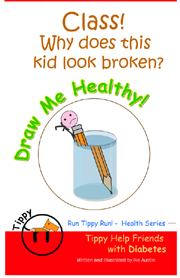 Kids Can Read the African American Book Online Free At DayStarBooks.Com Where To Buy
Parents can purchase the book direct from the publisher $6.50.
Or, purchase from Amazon $12.15How? About those beautiful TV commercials always showing kids having lots of fun eating lots of brand name, tasty fast food and drinking white liquid sugar sweet chemical filled sodas?See what's really in that food being advertised on TV… (BlackLight Food Droid.)
Tags: African Americ Diabetes Solution, African American Books Online, African American Children's Book, African American Health Book, African Americans and Diabetes, Blood Sugar, Children and Diabetes, Children Diabetes Books, Children with Diabetes Books, Cow Milk and Diabetes, Diabetes and African Americans, Diabetes and Fast Food, Diabetes Avoidance, Diabetes Diet, Fast Food and Diabetes, food poisioning, Junk Food In - Diabetes Out, Onset Diabetes, Type 1