Diabetes and Children – You Are What You Eat!
Diabetes and Children – Is Diabetes Self-Inflicted?
The Purpose, Is Prevention: Before the US commercialized food industry, diabetes was a minute disease in our society. The reason for the sharp increase in the US population being diagnosed with Type 1 and Type 2 diabetes is the food you buy at the local grocery stores and feed to your loving family. This food is produced with chemical white flour, white sugar and HFCS chemicals, your kids are eating themselves into a self-inflicted illness. Poison additives in your food? Read More Here.
Conclusion
Investigate the possibility of introducing more vitamins vs a insulin only treatment. The many medical and health benefits are well established and combined with a good diet can prevent diabtetes. Run Tippy Run  – Draw  Me Healthy is a small start for you and your family.
Recommended Reading
Read Run Tippy Run – Diabetes Health Series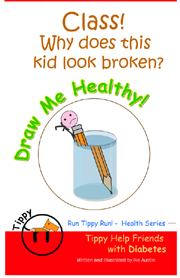 Kids Can Read Free Online At DayStarBooks.Com
Parents can purchase the book direct from the publisher $6.50.
Or, purchase from Amazon $12.15
TV Commercials and Advertisement?
About those beautiful TV commercials always showing kids having lots of fun eating lots of brand name, tasty fast food and drinking white liquid sugar sweet chemical filled sodas?
See what's really in that food being advertised on TV… (BlackLight Food Droid.)
Tags: African Americ Diabetes Solution, African American Children's Book, African American Health Book, Blood Sugar, Children with Diabetes Books, Diabetes and African Americans, Diabetes and Children, Diabetes and Cow Milk, Diabetes and Fast Food, Diabetes and Junk Food, Fast Food and Diabetes, Junk Food, Junk Food and Diabetes, Milk Triggers Type 1 Diabetes, Onset Diabetes, Type 1 and Cow Milk