Diabetes and Children Symptoms
Diabetes – Have You Been Mis-Diagnosed?
I was mis-diagnosed as being a Type 1 diabetic. Dispite my lacking typical type1 diabetic symptoms such as headaches, sore stomach and vomiting. I was perscripted the standard insulin injection medications. With in a couple of weeks I removed myself off this insulin. Come to find out, I was mis-diagnosed. Medical diabetes misdiagnosed cases are not that uncommon, but on the contrary quite regular an astonishing 20% of the time. Read More Here
I also discovered that there is a direct link between triggering Type 1 diabetes and milk. Read More Here
A is for… Alert, Awareness The science of diagnosis is not straight forward. The medical profession is being constantly challenged by various sub-forms or sub-sets of diabetes such as
Type3c
and
LADA
both with similar symptoms that help complicate the proper identification of various diabetes types.
Conclusion:
You really need that second opinion or do as I did, and just monitor you glucose level and see if you are in fact a diabetic at all.
Read my Raw gOne Green Smoothie 50/50 food/veggie diet at…
http://www.daystarbooks.com/articles/health/
Drink Green Things 3 Times A Day! 
 Recommended Reading – African American Books Online
Read Run Tippy Run – Draw Me Healthy – Diabetes Health Children's Book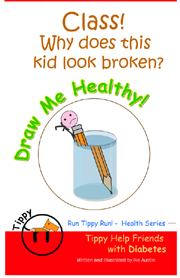 Kids Can Read the African American Book Online Free At DayStarBooks.Com 
Where To Buy
Parents can purchase the book direct from the publisher $6.50.
Or, purchase from Amazon $12.15
TV Commercials?
How? About those beautiful TV commercials always showing kids having lots of fun eating lots of brand name, tasty fast food and drinking white liquid sugar sweet chemical filled sodas?See what's really in that food being advertised on TV… (BlackLight Food Droid.)
Tags: African American Children's Book, African American Health Book, African Americans and Diabetes, Blood Sugar, Children and Diabetes, Children with Diabetes Books, Cow Milk and Diabetes, Junk Food In - Diabetes Out, Type 1, Type 1 Diabetes