How do You Prevent Diabetes – Children and Diabetes Avoidance
What Kids Must Do To Prevent Diabetes  – A Call To Action
Herbs – Veggies – Exercise
Veggies – Vegetables And Diabetics
The road from potential diabetes to diabetes prevention starts with a proper diet. Fast foods, junk foods, chemically enhanced foods are to be avoided. The proper choice of foods are to include organic veggies, lots of green leafy veggies, plenty of water and should include a simple exercise walking routine–a simple 12 minutes walk can reduce blood sugar levels 2-50 points. These two methods(organic veggies and walking) alone will go a long way in helping you and your family in preventing diabetes. Don't be fooled by deceptive advertising and labels found in your super markets.  Grocery stores are aware that more consumers are becoming aware of labels so they are using such deceptive terms as, Natural, Farm Raised etc.  But, there is only one label that represents true organically grown food products.
Your Health and High Fructose Corn Syrup Dangers
A major step on how to prevent diabetes is to Avoid High Fructose Corn Syrup (HFCS) enhanced foods. This might include 80% of the commercially produced foods stocked on grocery shelves. This is why it is important to located an organic food store and start to grow your own organic veggies year round. The more organic foods you consume the better your health…eat only all pure organic foods.
Drink Green Things 3 Times A Day!
Recommended Reading – African American Health Books Online
Read Run Tippy Run – Draw Me Healthy – Diabetes Health Children's Book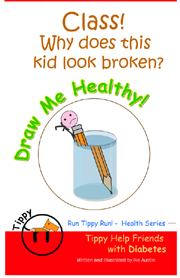 Kids Can Read the African American Book Online Free At DayStarBooks.Com
Where To Buy
Parents can purchase the book direct from the publisher $6.50.
Or, purchase from Amazon $12.15
TV Commercials?
How? About those beautiful TV commercials always showing kids having lots of fun eating lots of brand name, tasty fast food and drinking white liquid sugar sweet chemical filled sodas?
Making Diabetes Taste Good
See what's really in that fast food being advertised on TV… (BlackLight Food Droid.)
Tags: children diabetes prevention, Children Health Books, Children with Diabetes Books, childrenwithdiabetes, cinnamon for diabetes, Cow Milk and Diabetes, diabetes, Diabetes and African American Children, Diabetes and Children, Diabetes and Cow Milk, Diabetes and Fast Food, diabetes and herbs, diabetes and insulin, Diabetes Avoidance, Diabetes Cure, Diabetes Misdiagnosed, Diabetes Prevention, Diagnosed, Fast Food and Diabetes, Food Poison - Poison From Groceries, Food Poison - Poison From Groceries | Tagged Blood Sugar, gymnema, Gymnema vs Insulin, Health and Disease, Health and Sickness, Health and Sickness | Tagged Blood Sugar, Health and Sickness | Tagged Children and Diabetes, Health and Sickness | Tagged Children Diabetes Books, Herbs, herbs for blood sugar, Herbs For Diabetes, herbs for medicine, herbs insulin, HFCS, High Fructose Corn Syrup, How do You Prevent Diabetes, Hurbs and Insulin, Junk Food, Juvenile Diabetes, milk and diabetes, Newly Diagnosed Type 1, Newly Diagnosed Type 1 Diabetes, Onset Diabetes, Oranic Food, Organic and Diabetes, Type 1 Diabetes, Type 2 Diabetes, Type 2 Diabetes | Tagged Children Diabetes Health Books, Vegetables And Diabetics, Vitamins, vitamins and insulin, Vitamins vs Insulin Injections