Book About Diabetes – Tippy Discovers Diabetes Prevention
Preventing Diabetes – Run Tippy Run – Draw Me Healthy is a children's book about diabetes and how to prevent diabetes.
Franchised junk food and commercial food is creating diabetes in every segment of population where these types of foods suddenly are served.
Which one can conclude that consuming these foods surely leads to type 2 diabetes. USA food manufacturing and commercials food products that once only has inflicted the US, is now spreading around the world threatening other nations wherever these commercial food products are distributed.
Most local authorities have not yet even begun debate as to how to counteract the advancement of this man-made self-inflicted threat. Children and nutrition have have been sacrificed and replaced with corporate profits. School lunch programs from elementary to high school are nothing more than a sweet treat food eating session.
This commercially chemically treated food only help your children gain weight and develop various health related problems including heart and type 1 & type 2 diabetes. This food was not created to provide nutritional value, on the contrary, there is no nutrition values in lunch foods being served in all the schools across America.
What Do Do About Your Kids Eating Unhealthy Foods?
You can start to help your kids avoid any food that contains High Fructose Corn Syrup and other chemicals being used to extend food shelf life and give the food an appealing fresh looking color.
Second, you could pack your kids lunch!
A reassuring book to help you in the effort to start training your kids away from eating unhealthy foods is the Run Tippy Run – Draw Me Health Book About Diabetes.
This book was written for children in an effort to help yours kids become more aware of how their eating habits are directly related to them being constantly ill. The book as an adventure about a dog who is suddenly lost and finds himself in an enchanted forest called Jimma'. The young reader will causally be introduced to the benefits of eating green food and also the importance of organic chemically free foods. Read More... Dangerous Food Addatives
The book will demonstrate how foods from two different communities are impacting its citizens in different ways. One community PencilVille(which is Tippy's home town) it's citizens are constantly sick. Jimma'  on the other hand citizens are all extremely healthy. Tippy g-One points out that the only citizens that are sickly are those that eat food purchased from creatures called 5 Fingers or human beings.
Of course there comes the flustrations of never being able to eat sweets. But, there are plenty of good foods to provide your kids that will keep their sweet tooth satisfied.
Perhaps the most valuable sections of this book about diabetes is in the light hearted presentation of the diabetes material. The book is child friendly and makes for an adventurous bed time story. Read More… Diabetes Diet
Recommended Reading – Book About Diabetes
A good health related book for your kids to read is,
Run Tippy Run – Draw Me Healthy – Diabetes Health Children's Book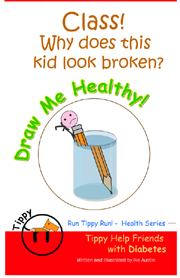 Kids Can Read the Book Online Free At DayStarBooks.Com
Where To Buy
Parents can purchase the book direct from the publisher $6.50.
Or, purchase from Amazon $12.15
Tags: book ABOUT diabetes, book for children, book for diabetes, book on diabetes, book to read for kids, books about diabetes, books diabetes, books for diabetes, books for diabetics, books for kid, books for kids, books for kids to read, books for kindergarteners, books for kindergarteners to read, books on diabetes, books on diabetes mellitus, books on diabetes type 1, books on diabetes type 2, books on gestational diabetes, books on type 1 diabetes, books on type 2 diabetes, children story books