New Diabetes Book For Kids – Organic Eating
Run Tippy Run is a new diabetes book to help get kids motivated to eat more organic and healthy meals. It's time to begin launching a lot more of similar  children narrative publications like Popeye the Sailor Man to assist in the fight against the TV commercials and inspire more children to consume a lot more healthy foods.
Your Kids Health and Organic Food
In this kids health related diabetes book Tippy (the main character) discovers a new all green friend in the forest of Jimma' who's name is g-One. After g-One tells Tippy all about the importance of eating lots of green organically grown vegetables.
After hearing g-One explain how organic foods that are grown without any chemicals has helped to keep everyone in his family healthy, Tippy becomes excited. Because for the first time Tippy has discovered the reason why everyone back in his own hometown of PencilVille are always energy drained and sickly.
The new kids health book, Run Tippy Run  is designed to introduce a green diet concept to young children and get them motivated to eat more healthy organically grown green vegetables.
By illustrating a direct link to green food and health, the children's diabetes related health book would also introduce kids to organic gardening."

Learn how to draw a future without diabetes
1 – Drastically reduce kids dependency on diabetic drugs
2 – Encourage a GROW YOUR OWN ORGANIC
3 – Train your kids to prevent and avoid diabetes
Why  This Kids Health Book Is So Important
Since the introduction of High Fructose Corn Syrup (HFCS) additives into the food supply over thirty years ago, the increase of diabetics has kept pace in direct proportion. (link to Cases Of Diabetes )
The same conclusion can also be drawn about chemical hormones put in cow's milk-research shows a direct link to chemical treated cows milk to an increase in juvenile (Type-1) diabetes, …Read More Here Causes Of Diabetes – Poison In The Food Supply.
Draw Me Healthy Diabetes Book About Health

In the Diabetes Book Run Tippy Run,  gOne is a super fast and hyper-energetic character. gOne has always followed the advice of his elders and eats only green veggies. He grows organic veggies for himself and never eat anything provided from strangers.
Recommended Reading – Health Book Online
A good health related book for your kids to read is,
Run Tippy Run – Draw Me Healthy – Diabetes Health Children's Book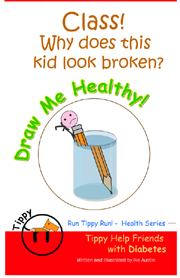 Kids Can Read the Book Online Free At DayStarBooks.Com
Where To Buy
Parents can purchase the book direct from the publisher $6.50.
Or, purchase from Amazon $12.15
Tags: Children and Diabetes, diabetes book, diabetes books, organic eating, organic foods