A Diabetes Prevention Reminder
Physical Activity and Diabetes Prevention
eat chips, walk the steps
eat snacks, jumping jacks
eat sweets, bend those knees
eat cake, walk in place
pushups, jump rope, situps, walk,
…activity will prevent high sugar levels.
Low sugar levels, prevents diabetes.
Physical Activity and Diabetes Prevention
Eat and Move is a mind set, a culture, a habitual action that accompanies a meal.
Help Our Kids Draw Their Future Without Diabetes
Kids Health Book – Diabetes Children's Book
A good health related book for your kids to read is the Read Run Tippy Run – Draw Me Healthy – Diabetes Health Children's Book
In Draw Me Healthy, gOne is a super fast and hyper-energetic character. gOne has always followed the advice of his elders and eats only green veggies. He grows organic veggies for himself and never eat anything provided from strangers.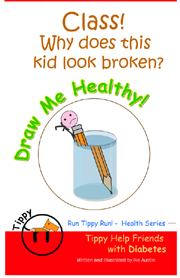 Kids Can Read the Book Online Free At DayStarBooks.Com
Where To Buy
Parents can purchase the Run Tippy Run direct from the publisher, DayStarBooks $6.50.
Or, purchase Run Tippy Run from Amazon $12.15
Run Tippy Run – Kindle version from Amazon Run Tippy Run Only $2.99
You can read more about the book here… Draw Me Healthy
Trends in diabetes…
Tags: Diabetes Prevention, diabetes prevention reminder, kids health and diabetes, physical activity and diabetes, physical activity diabetes precention