Prevent Diabetes – Keep Moving
When you're bored of jogging,
switch to jumping jacks.
When you get bored of jumping jacks,
Switch to jump rope in place,
When tired of jump rope in place, shadow jump without the rope!
Push ups, then chin ups,
leg squats, then run in place,
stairs, or stair stepper,
cycling or stationary bike…
by all means, keep moving.
Constant motion and diabetes constant motion and diabetes
Be alert for symptoms of childhood diabetes
A good health related book for your kids to read is,
Read Run Tippy Run – Draw Me Healthy – Diabetes Health Children's Book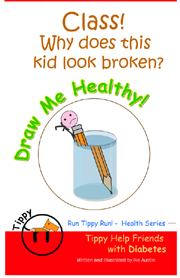 Kids Can Read the Book Online Free At DayStarBooks.Com
Where To Buy
Parents can purchase the Run Tippy Run direct from the publisher, DayStarBooks $6.50.
Or, purchase Run Tippy Run from Amazon $12.15
Run Tippy Run – Kindle version from Amazon Run Tippy Run Only $2.99
You can read more about the book here… Draw Me Healthy